Floating-Electron-Based Quantum Information RIKEN Hakubi Research Team
Principal Investigator
PI Name
Erika&nbspKawakami
Degree
Ph. D.
Title
RIKEN Hakubi Team Leader
Brief Resume


| | |
| --- | --- |
| 2016 | Ph.D., Delft University of Technology, The Netherlands |
| 2016 | Postdoctoral researcher, Okinawa Institute of Science and Technology |
| 2017 | PRESTO, Japan Science and Technology Agency (-present) |
| 2020 | RIKEN Hakubi Team Leader, Floating-Electron-Based Quantum Information RIKEN Hakubi Research Team, RIKEN (-present) |
| 2020 | RIKEN Hakubi Team Leader, Floating-Electron-Based Quantum Information RIKEN Hakubi Research Team, RIKEN Center for Emergent Matter Science (-present) |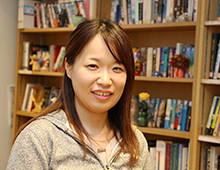 Outline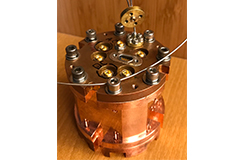 Our team is working on the application of electrons floating on liquid helium to quantum information. This physical system has a high potential for providing an ideal platform on which to realize a quantum computer, due to the fact that it is free of impurities and defects. We are also working on the technological development required for large-scale quantum computation.
Research Fields
Keywords
Quantum technology
Quantum computer
Quantum bit
Two-dimensional electron system
Microwave
Results
Towards realization of qubits using electrons on helium
Electrons on the surface of liquid helium present an extremely clean two-dimensional electron system. The quantized bound states of the electron orbital motion perpendicular to the liquid surface (Rydberg states) are formed due to the interaction of an electron with its image charge in liquid helium. Thanks to its cleanness, the quantum states of the electrons on helium are expected to have a long coherence time. In particular, spin states of the electrons on liquid helium are expected to have a longer coherence time than in any other material. Therefore, we propose to use the spin state of a single electron on liquid helium as a qubit state and make use of the interaction between the Rydberg state and the spin state (spin-Rydberg interaction) to realize read-out, initialization, one-qubit gate, and two-qubit gate of the qubit states. Although the intrinsic spin-Rydberg interaction is negligibly small for electrons on helium, we could introduce an artificial one using a local magnetic field gradient. We are currently working on realizing the read-out of the qubit states on an experimental basis, making use of our newly-invented detection technique, image-charge detection.
Members
| | | | |
| --- | --- | --- | --- |
| Erika&nbspKawakami | RIKEN Hakubi Team Leader | | |

2-1 Hirosawa, Wako, Saitama 351-0198 Japan
E-mail:
erika.kawakami[at]riken.jp
Links