Hybrid Quantum Circuits Research Team
Principal Investigator
PI Name
Atsushi&nbspNoguchi
Title
Team Leader
Brief Resume


| | |
| --- | --- |
| 2013 | D. Sci., Osaka University |
| 2013 | Postdoctoral researcher, Osaka University |
| 2014 | Postdoctoral researcher, Research Center for Advanced Science and Technology, The University of Tokyo |
| 2015 | Project assistant professor, Research Center for Advanced Science and Technology, The University of Tokyo |
| 2016 | Researcher, Japan Science and Technology Agency, PREST |
| 2019 | Associate Professor, Graduate School of Arts and Science, The University of Tokyo (-present) |
| 2020 | Fellow, Inamori Research Institute for Science (-present) |
| 2020 | Team Leader, Hybrid Quantum Circuits Research Team, RIKEN Center for Emergent Matter Science (-present) |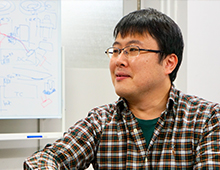 Outline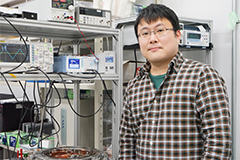 In superconducting circuits, various quantum functions, such as qubits and parametric circuits, emerge due to the large nonlinearity of the Josephson junction without any loss. These systems, which combine these high-performance quantum systems with other quantum systems, are called hybrid quantum systems. We aim to construct high-lifetime quantum systems, such as microwave resonators and trapped electrons, and observe and control them with superconducting circuits, in order to establish quantum control techniques that greatly outperform existing quantum systems and to demonstrate quantum error correction codes using these techniques.
Research Fields
Keywords
Single electron manipulation
Superconductivity
Quantum technology
Quantum information
Qubit
Results
Ultra-high fidelity quantum control using hybrid quantum circuits
Quantum states have a finite lifetime due to their interaction with the environment. Therefore, there is a time limit for quantum control, which prevents the realization of precise quantum control. This is a major challenge for the realization of a quantum computer, and researches are being carried out to solve this problem worldwide.
A superconducting quantum circuit is a quantum system composed of electric circuits, which can interact with other quantum systems by the electromagnetic field stored in the circuit. In addition, electric and magnetic fields can be localized to a specific circuit part in a circuit, which enables coupling to occur with a strength that is not possible with ordinary electromagnetic waves. On the other hand, in a superconductor, there is no energy loss due to electrical resistance, so the energy stored inside can be retained for a long time. These properties make it possible to realize fast quantum control and long-lived quantum systems. Taking advantage of this property, the group aims to achieve fast control of long-lived superconducting microwave resonators by superconducting qubits to achieve quantum control with very high accuracy. With this technology, we also aim to achieve quantum error correction and life-time free quantum systems.
Members
| | | | |
| --- | --- | --- | --- |
| Atsushi&nbspNoguchi | Team Leader | | |

2-1 Hirosawa, Wako, Saitama 351-0198 Japan
E-mail:
atsushi.noguchi[at]riken.jp
Links