Quantum Surface and Interface Research Unit
Principal Investigator
PI Name
Shuaihua&nbspJi
Degree
Ph.D.
Title
Unit Leader
Brief Resume


| | |
| --- | --- |
| 2008 | Ph.D., Institute of Physics, Chinese Academy of Sciences, Beijing, China. |
| 2008 | Postdoctoral Fellow, IBM T. J. Watson Research Center, NY, USA |
| 2011 | Postdoctoral Fellow, Columbia University, NY, USA |
| 2012 | Assistant Professor, Department of Physics, Tsinghua University |
| 2014 | Unit Leader, Quantum Surface and Interface Research Unit, Cross-Divisional Materials Research Program, RIKEN Center for Emergent Matter Science (-present) |
| 2017 | Associate Professor, Department of Physics, Tsinghua University (-present) |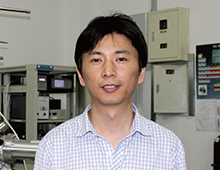 Outline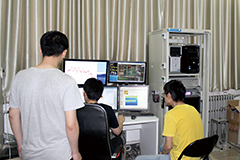 Our research unit focuses on the emergent phenomena on the surface/interface of the newly discovered topological related quantum materials, such as topological insulators and topological crystalline insulators. We are interested in the fundamental properties of those symmetry protected surface states. In particular, we are interested in topological surface states with the gap opening induced by the time reversal symmetry breaking, or gauge symmetry breaking, or interaction of two surface states through tunneling effect, which could lead to the exotic phenomena, such as surface quantum hall effect, topological magnetoelectric effect and topological superconducting.
Research Fields
Physics, Material Science
Keywords
Scanning tunneling microscopy
Low dimensional superconductors
Topological quantum matters
Thin films and interfaces
Surface and heterogeneous interfaces
Results
Discovery of robust in-plane ferroelectricity in atomic-thick SnTe
Stable ferroelectricity with high transition temperature in nanostructures is needed for miniaturizing ferroelectric devices. Here we show the robust in-plane ferroelectricity in atomic-thick SnTe with much enhanced Tc comparing with bulk counterpart. We use the molecular beam epitaxial technique to prepare ultra-thin ferroelectric SnTe films of few unit-cell (UC) thickness on graphene/SiC(0001) surface. We discover stable in-plane spontaneous polarization in SnTe films of only a few UC thickness. The ferroelectric domain structures, lattice distortion, band bending induced by bound charge at edge of films, and the domain wall movement under electric field are clearly observed in SnTe films by using scanning tunneling microscope. The ferroelectric transition temperature Tc of 1-UC SnTe film is greatly enhanced from the bulk value of 98 kelvin and reaches as high as 270 kelvin. Moreover, 2- to 4-UC SnTe films show robust ferroelectricity at room temperature. The significant enhancement of Tc is mainly related to the strongly reduced free carrier density, which can screen ion-ion interaction, in high quality ultra-thin films. The in-plane lattice expansion in thin film may also facilitate the Tc enhancement.

E-mail:
shuaihua.ji[at]riken.jp
Links