Superconducting Quantum Simulation Research Team
Principal Investigator
PI Name
Jaw Shen&nbspTsai
Degree
Ph.D.
Title
Team Leader
Brief Resume


| | |
| --- | --- |
| 1983 | Ph.D., State University of New York at Stony Brook, USA |
| 1983 | Research Scientist, Microelectronics Research Laboratories, NEC |
| 2000 | Fellow, American Physical Society, USA |
| 2001 | Fellow, Nano Electronics Research Laboratories, NEC |
| 2001 | Team Leader, Macroscopic Quantum Coherence Team, RIKEN |
| 2012 | Group Director, Single Quantum Dynamics Research Group, RIKEN |
| 2012 | Team Leader, Macroscopic Quantum Coherence Research Team, Quantum Information Electronics Division, RIKEN Center for Emergent Matter Science |
| 2014 | Team Leader, Superconducting Quantum Simulation Research Team, Quantum Information Electronics Division, RIKEN Center for Emergent Matter Science (-present) |
| 2015 | Professor, Tokyo University of Science |
| 2020 | Team Leader, Superconducting Quantum Simulation Research Team, Quantum Computing Division, RIKEN Center for Emergent Matter Science (-present) |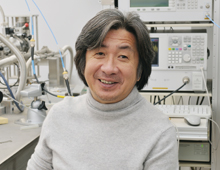 Outline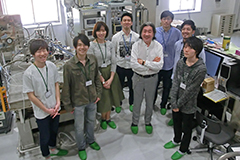 We are studying macroscopic quantum coherence that occurs in small Josephson junction circuits. In the system, charge and phase degrees of freedoms co-exist, and their coherent control can be exploited as quantum bit (qubit), the basic component of the quantum computer. Superconducting qubit possesses high degree of freedoms in the circuit design and ability to local control as well as readout quantum states. Utilizing these properties, the development of small scale quantum simulation circuit and quantum annealing circuit are targeted.
Research Fields
Keywords
Superconductivity
Josephson effect
Quantum coherence
Qubit
Artificial atoms
Results
Integrated Superconducting chip enabling 2D packaging
A 16-bit superconducting quantum chip was designed and fabricated. It was based on new architecture compatible with surface-code universal quantum computer. The new architecture solves the wiring problem of superconducting quantum computer where qubits internal to a chip-set become inaccessible for external control/readout lines. It is a modified superconducting scalable micro-architecture that only requires a completely planar design.
The inter-qubit connections are realized by a novel pseudo-2D resonator network containing airbridges. A new Omon type superconducting qubit was developed.
A novel architecture for one-way superconducting quantum computer was also developed.
Publications
Z. H. Peng, S. E. de Graaf, J. S. Tsai, and O. V. Astafiev


Tuneable on-demand single-photon source in the microwave range

Nat. Commun. 7, 12588 (2016)

2-1 Hirosawa, Wako, Saitama 351-0198 Japan
E-mail:
tsai[at]riken.jp
Links