Overview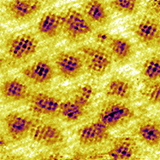 Recently, remarkable breakthroughs have been made in enhancing the superconducting transition temperature (Tc) in various extreme conditions — superconductivity in sulfur hydrides has been observed at 203 K under extreme high pressure, signitures of high-Tc non-equilibilium superconductivity have been reported for alkali-doped fullerides and cuprates by means of the ultrafast optical technique. Possible superconductivity around 100 K in monolayer FeSe has been also a recent hot topic.
In this meeting, we will discuss the experimental and theoretical studies on superconductivity in
extremely high pressure
extremely strong magnetic/electric field
nonequilibirium conditions
heterostructures
We also discuss superconductivity in novel materials.
---
Co-organized by



RIKEN Center for Emergent Matter Science (CEMS)


Quantum-Phase Electronics Center (QPEC), School of Engineering, The University of Tokyo