Low-Dimensional Transport Research Unit
Principal Investigator
PI Name
Ding&nbspZhang
Degree
Ph.D.
Title
Unit Leader
Brief Resume


| | |
| --- | --- |
| 2014 | PhD in physics, Max Planck Institute for Solid State Research, Stuttgart, Germany |
| 2014 | PhD in physics, University of Stuttgart, Stuttgart, Germany |
| 2014 | Post-doctor, Tsinghua University, Beijing, China |
| 2016 | Assistant Professor, Tsinghua University, Beijing, China |
| 2018 | Associate Professor, Tsinghua University, Beijing, China (-present) |
| 2021 | Unit Leader, Low-Dimensional Transport Research Unit, Cross-Divisional Materials Research Program, RIKEN Center for Emergent Matter Science (-present) |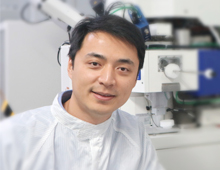 Outline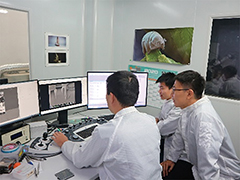 Our research unit studies a variety of low-dimensional electronic systems that undergo Cooper pairing. We aim at addressing some of the basic properties such as the pairing mechanism and the pairing symmetry. Furthermore, we look for novel quantum phenomena in reduced dimensions under specially designed conditions. The experimental knobs include stacking van der Waals heterostructures, injecting lithium/hydrogen ions, varying the magnetic field orientations at ultralow temperatures, and ramping up the magnetic field to an extremely high value. By collaborating closely with experimental and theoretical experts in the field, we hope to gain a comprehensive understanding of those exotic phenomena.
Research Fields
Keywords
Condensed matter physics
High-temperature superconductor
Josephson effect
Low dimensional superconductors
Van der Waals epitaxy
Results
Type-II Ising pairing in few-layer stanene
In recent years, two-dimensional non-centrosymmetric superconductors show large in-plane upper critical fields, far exceeding the conventionally expected value. To explain this phenomenon, a so-called Ising pairing mechanism was proposed, in which the paired electrons stem from spin-split bands with the spin orientationslocked out-of-plane. Recently, we observed enhanced in-plane upper critical fieldin a highly symmetric material—few-layer stanene. This is based on our previous discovery of superconductivity in the same material. In the more recent work, we clearly observed an up-turn behavior of the critical magnetic field as the temperature approaches absolute zero. However, since stanene is centrosymmetric, the observed behaviors cannot be explained by the established theory of Ising superconductivity. We therefore proposed a new type of Ising pairing—type-II Ising paring—which results from the combination of spin-orbit coupling and high lattice symmetry of the materials. Ourwork provides strong evidence for the existence of Ising superconductivityand substantially broadens the scope for the realization of Ising superconductors.
Members
| | | | |
| --- | --- | --- | --- |
| Ding&nbspZhang | Unit Leader | ding.zhang[at]riken.jp | |

E-mail:
ding.zhang[at]riken.jp
Links