Quantum Electron Device Research Team
Principal Investigator
PI Name
Michihisa&nbspYamamoto
Degree
D.Sci.
Title
Team Leader
Brief Resume


| | |
| --- | --- |
| 2004 | Ph. D. in Physics, The University of Tokyo, Japan |
| 2004 | Research Associate, Department of Applied Physics, The University of Tokyo |
| 2014 | Lecturer, Department of Applied Physics, The University of Tokyo |
| 2017 | Associate Professor, Quantum-Phase Electronics Center, School of Engineering, The University of Tokyo |
| 2017 | Unit Leader, Quantum Electron Device Research Unit, RIKEN Center for Emergent Matter Science |
| 2020 | Team Leader, Quantum Electron Device Research Team, RIKEN Center for Emergent Matter Science (-present) |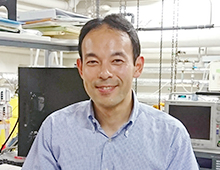 Outline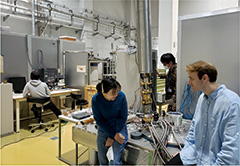 We develop quantum electron devices based on manipulation and transfer of quantum degrees of freedom in solids. We employ quantum electron optics, where quantum states of propagating electrons are manipulated in a single electron unit, and experiments on transfer and manipulation of novel quantum degrees of freedom in atomic-layer materials. These experiments aim to reveal physics of quantum coherence, quantum correlations, and quantum conversions, as guiding principles for quantum electron devices. We also employ state of the art quantum technologies to solve long-standing problems in condensed matter physics from microscopic points of view.
Research Fields
Keywords
Two-dimensional electron systems
Single electron manipulation
Nanodevices
Quantum coherence
Quantum correlations
Results
Observation and control of the Kondo screening cloud
The Kondo effect, an archetype of many-body correlations, arises from the interaction between a localized spin and surrounding conducting electrons. Since conducting electrons form a spin cloud to screen the localized spin, the Kondo state is also called as the Kondo cloud. The size of the Kondo cloud is one of the most important parameters that determine properties of many-body states containing multiple localized spins.
We confined a localized spin in a semiconductor artificial atom coupled to conducting electrons, embedded it into an electronic interferometer, and observed real shape of the Kondo cloud. We found that its size is inverse proportional to the Kondo temperature and that the cloud has the universal shape. More recently, we also found that the spin screening state can be electrically controlled.
Our work is an important step towards understanding of many-body correlated states containing multiple magnetic impurities and development of novel quantum information devices based on the long-range spin coupling. We are now investigating systems, where multiple Kondo clouds overlap with one another.
Quantum control of electron waves and measurement of the scattering phase
The phase of an electron wave function, a counterpart of the wave function amplitude characterizing the electron probability density, plays an important role in quantum devices. Techniques for precise measurement and control of the phase shift of an electron wave are useful not only for development of quantum devices but also for investigation of microscopic quantum effects in solids that cannot be detected in conventional transport experiments. We employ quantum electron optics, where the quantum state of a propagating electron is manipulated, to investigate scattering of an electron wave by an artificial atom.
We recently apply this technology for quantum control of electron waves to the quantum information processing. Based on the electron wave states, we attempt to control delocalized quantum bits defined by on-demand special quasi-particles. Similarly to the photon qubit, where the number of qubits is not limited by the hardware size, this may open up a way to control numerous semiconductor qubits in a compact hardware. Our aim is to bring a paradigm shift in semiconductor quantum architectures, from vast infrastructure to a much smaller hardware, by realizing quantum control of on-demand qubits.
Members
| | | | |
| --- | --- | --- | --- |
| Michihisa&nbspYamamoto | Team Leader | michihisa.yamamoto[at]riken.jp | |
| Yuya&nbspShimazaki | Research Scientist | | |
| Han&nbspNgoc&nbspTu | Postdoctoral Researcher | | |
| David&nbspPomaranski | Postdoctoral Researcher | | |
| Ryo&nbspIto | Postdoctoral Researcher | | |

2-1 Hirosawa, Wako, Saitama 351-0198 Japan
E-mail:
michihisa.yamamoto[at]riken.jp
Links
News
Recruit